It is no longer news that MTN Launched 5G in some cities and gradually it will spread to other states in Nigeria. As of the time of writing, about 81 communities in Lagos can now conveniently access 5G services in their neighborhood.
These communities can now perform remote surgical operations, operate a smart vehicle, do seamless virtual meetings, and generally operate smart city projects if they deploy other services that can leverage the immersive capabilities of 5G.
Most of the communities span across Mainland, Lagos Island, Ikoyi, Lekki, and Ajah among others. Though cities like Festac, Satellite Town, and environs, down the Badagry axis, are not covered. Communities in Apapa, Ajegunle, Ikorodu, Epe, and others are not also covered while remote communities like Mushin, Oke ira nla, Magboro, Ajao Estate are well on the 5G coverage now.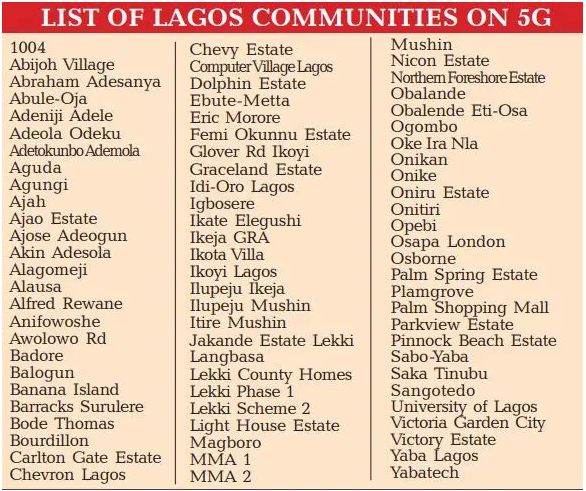 5G has increased capacity of up to 100 times faster than 4G, meaning faster connectivity. It has low latency and greater bandwidth.
We heard from a reliable source that the company's plans of covering the six geo-political zones of the country on 5G have the speed of light; meaning that those communities not covered at the moment, will in the shortest possible time be covered.
MTN is targeting about seven Nigerian cities for a start, including Lagos, Port Harcourt, Ibadan, Abuja, Maiduguri, Kano, and Owerri.
If you are still using a 4G device, it is time to upgrade to a 5G device before it is rolled out to your city so that it won't catch you unaware. Let us know in the comment if your location has been covered by MTN 5G Network.