Even amid this pandemic that conspiracy theorists are condemning 5G network, MTN plans to launch a 5G network fully in June this year beginning from South Africa.
First introduced at TECHFEST in 2018, trial launched in November 2019 at Abuja and Lagos shortly after the telco successfully ran a trial of the Network in South Africa, achieving 20 Gigabyte per second (Gbps) with less than five minutes latency.
Now, the telecom is fully launching 5G Network beginning from South Africa and it has started to promote its 5G value proposition in its latest Y'ello magazine.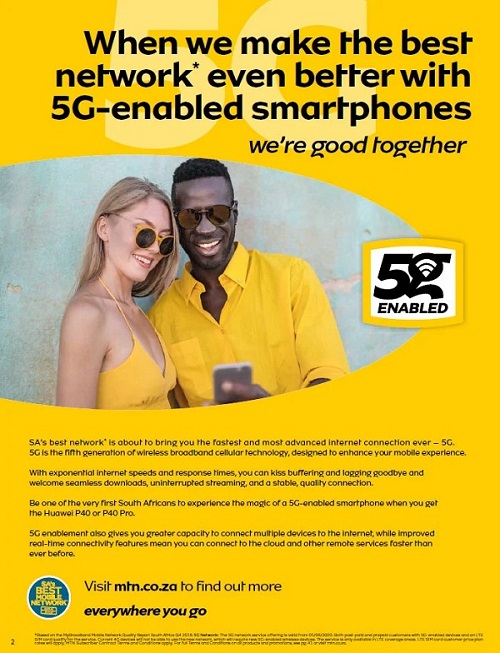 The promotion in the Y'ello magazine states that MTN will make the "best network even better with 5G-enabled smartphones".
This promotion forms part of the launch of the new 5G-enabled Huawei P40 or P40 Pro smartphones in South Africa.
When Will MTN 5G be Launched?
MTN says both post-paid and prepaid customers with 5G-enabled devices and an LTE SIM card qualify for the service.
"Current 4G devices will not be able to use the new network, which will require new 5G-enabled wireless devices," it said.
The 5G service is set to be available on current LTE SIM card customer price plan rates.
In its fine print in the Y'ello magazine, MTN states that its 5G network service offering is valid from Monday 1 June 2020 and that it is only available in LTE coverage areas.
5G will be fully available in S.A this month, then expect it to roll out to Nigeria this second quarter of 2020.
Once launched, you'll have the option to switch your smartphone to 5G devices or get a wireless router enabled with 5G to use the network. Also expect to see new data promotions regarding the 5G network.
What do you think about this?