In response to Malawi's government's success in opposing MultiChoice's most recent price rises, the company has announced the immediate termination of its DStv services in Malawi.
The broadcaster claimed that the decision was made in response to an injunction banning a change in the DStv pricing that was imposed by the High Court of Lilongwe in a dispute between MultiChoice Malawi (MCM) and the Malawi Communications Regulatory Authority (Macra).
MultiChoice Africa stated that because MCM does not provide DStv to the general population, it is unable to determine or modify the service's rates.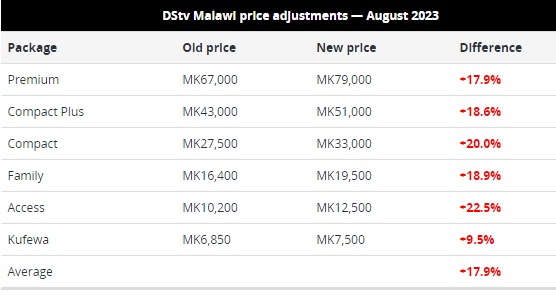 The injunction issued to MCM is therefore unable to be carried out by them but contains serious repercussions for the directors and management of MultiChoice Malawi, including possible jail.
MultiChoice Africa is thus forced to stop the DStv service permanently due to the impact on its supplier and an increasingly unfavorable regulatory climate.
DStv announced in July pricing increases for its packages beginning on August 1st, 2023, in Malawi.
Included in this was a roughly 18% increase in the monthly cost of the Premium bouquet from 67,000 Malawian Kwacha (R1,167) to 79,000 Malawian Kwacha (R1,376).
According to the table below, all other package pricing also saw significant increases, with some seeing increases of up to 22.5%.
Customers in Malawi were urged by MultiChoice to stop paying for DStv services right away.
No new subscriptions or reconnections will be accepted beginning on August 9, 2023, according to the broadcaster.
The service will continue to be available to users who have already paid for their most recent membership until the current 30-day viewing cycle concludes on or before September 10, 2023.
MultiChoice congratulated MCM for its professional conduct in providing services to the larger company during the same time period as well as Malawian customers for their support over a long period of time.