To all my Android and iPhone users who have been
anticipating for the release of
BBM on Android
, I'm glad to announce to you
that BBM on android and iPhone is now available. It is time to rock your
anticipated, long awaited but one time disappointed BBM for Iphone and Android
is now readily available. The fake bbm I believe has been flushed out of Google
Playstore toilet.
==>Run and install it
==>Enter your email address and you should soon receive a mail from them.
iPhone users should should do thesame but read the info below.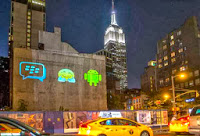 "This is how the roll out details goes;
1. Download
BBM – the easiest way is to visit BBM.com from your Android or iPhone browser*
2. Once
you install the app, open it, and enter your email address to hold your spot in
line
3. We
will email you as soon as you reach the front of the line and can start using
BBM
If you are among the millions that took
the time to sign up at BBM.com, you can
start using BBM immediately without waiting in line.* If you didn't sign up in
advance, don't worry – we are focused on moving millions of customers through
the line as fast as possible.
Our team of developers and engineers
has been working around the clock to bring you BBM – and make some upgrades
while we're at it – and some incredible work has been done. I look forward to
sharing more of this with you here, on Inside BlackBerry, soon."
As soon as you successfully download
your own and login, just drop your pin lets test it. But please your pin should
not look like WAEC result oooo…lol!