Hello guys, I know majority of Android and iPhone users are
now rocking the hell out of BBM with this new
BBM app
installed on their
device. Though RIM official said BBM will properly be available for other
Android Phones by 25th of this month but a lot just can't wait.
If you are finding it
difficult to download BBM for your Android Phone, you can download it From this
two link below :
Mind you, to successfully install BBM on your
Android phone
,
you must have atleast OS 4.0 and above if not you might be considering an
upgrade for some supported Android phones. Despite the fact that some android
device meet up with specifications above,
they still find it difficult to install BBM or some app on their device as they will
always get unsupported.
I'll quickly show you how you can install unsupported app on
your Android device with ease.
How Can I Install Unsupported App On My Android Device?
===>Make sure you have a root access on your Android
Device
===>
Market Helper
is
a tool for Android that helps users to be able to change/fake their rooted
devices to any other devices. For example, it can turn your
Nexus 7
into
Samsung Galaxy S3
in a few
seconds. No reboot is required. You can download Market Helper
here
or from dropbox
here
How To Make Use of Market Helper (Tested on Nexus 7 &
Galaxy S3 running JellyBean 4.1.2)
1.
Run and install the app
2.
Open the app. Select the device and carrier you
want to change to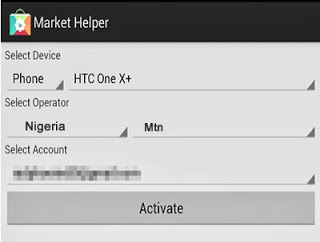 3.
Press Activate.
Wait until it's done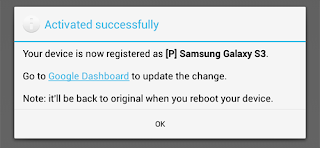 4. Go to
Google Dashboard
to
update the change ( just visit the page, you don't need to do anything )
5.
Now you can download and install apps that you
couldn't before.
If you want to switch back to normal, select "Restore" in
device list and press "Activate", or simply reboot the device ( with wifi/3g is
enabled )
Supported Device
Android 2.2+ devices with Android Market / Google Play Store
+ Google Services Framework installed