Without much doubt, we are all enjoying the weekend. Today I'll
be sharing with you how to block your
FaceBook
hacked account. In one way or the
other, 80% of
Facebook
users have more than one account. Some their account was
hacked by some unknown persons, some forgot their password and then open another.
If your account has been hacked before and that
Facebook
account
is still active but being used by the hacker and you really want to recover it
or block the account permanently, then this tutorial will guide you through on
how to do that.
How Can I Blocked/Recover My Hacked Facebook Account?
==>Login to your Facebook account
==>Go to the account profile that was hacked but actively
in use by the hacker
==>Click on Settings tab as seen below >>then click
on Report/Block
==>Choose "This is my old account >> You can then
go for the first option or the second depending if you want to recover it or
Close the account.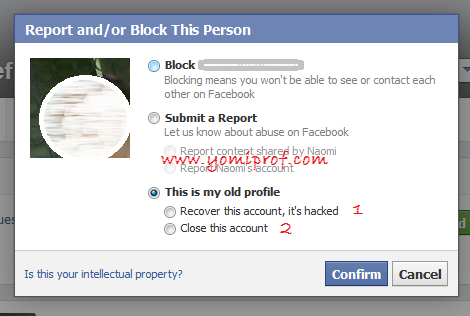 Mind you, if you close the account, FB authority will
totally delete the account from their database and if you wish to recover the
account, they will highlight some set of instructions for you to follow before
you recover your account.