Good morning to all game lovers. I'm pretty sure the main
reason why must of us purchased our device is not only for swag but because of the
extremely unique game embedded in Play store. I know of someone who spend 6hrs
playing games without feeling tired; well that's one of the things your Android
is meant to do
for you.
Today, I'll be given out Temple Run Oz
game
for free. If you
check it well on playstore, it is sold for $1.99. This particular temple run is
not just an ordinary temple run but on downloading it, you have access to free
superpowers, 1,500 coin that idealy should cost you $0.99. If you haven't
played this game before, then you have not started your journey yet into Mobile
device world.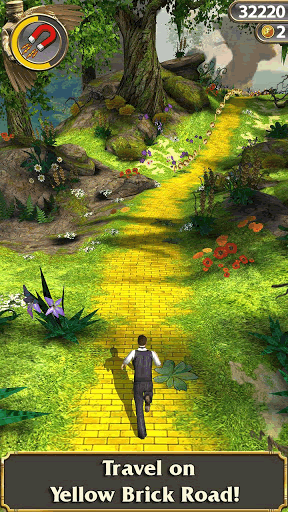 Why You Should Download This Game
==>Stunning environments inspired by the film – explore
them all.
==>Fly in a hot air balloon – earn even more coins.
==>Explore different locations in Oz – follow sign posts!
==>The environment changes as you run – test your reflexes.
==>Compete in weekly challenges – beat your friends!
==>Unlimited Super Powers.

BONUS! Get 1500 coins for FREE when you download Temple Run: Oz today – that's
$.99 USD worth of coins to buy power-ups and more!
Supported Smartphones
This version works on all BB10 with the latest OS and All
Android phones
. But window phones users can download from
here
Where Can I Download Temple Run Oz
How To Install Temple Run Oz on PC
Step
1: Download
and Install Bluestacks on PC ( if you have already installed
Bluestacks then skip this step)
Step 2: Download Temple Run Oz.apk from the above link
Step 3: When the download completes, double-click on Temple Run Oz.apk,
this will install it on your PC
Step 4: Once installed, Open Bluestacks and Click on My Apps.
Step 5: Now you should see Temple Run Oz Installed on your PC. Click on
it to enjoy the game.
Make sure you are playing this game, you don't have anything on fire or else it will get burnt.