I don't want to talk about this but for the benefit of those
who are making demand for it, Etisalat still works with YourFreedom VPN with the
same old settings.
==>Download YF android app
here
==>Register for YF app if you haven't done that already
==>Download Android DNS changer
here
==>Launch the DNS CHANGER android app, on the;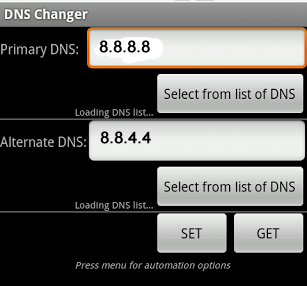 Primary DNS enter 8.8.8.8
Alternate DNS enter 8.8.4.4
Click on SET
==>Your Android Device must be ROOTED before you can use DNS Changer.
==>Minimize the DNS Changer app or better still after you
click on SET, leave the DNS Changer that way then launch the your-freedom
android app.
==>On the Your-Freedom android interface look at the downside for Configure
and click on it.
Click on Account Information; enter you-freedom account
details (username and Password)
Connection Mode: DNS
Port: 53
Tweaks: Nigeria Etisalat
Leave every other thing the way they are.
==>Click on Proxy Settings.
On the Proxy Address enter; 127.0.0.1
Proxy port:8080
==>Go back to the main interface and from there Click on START CONNECTION.
wait a little bit for the Your-freedom to get connected. On
a successful connection your-freedom android app will look exactly like the
image below.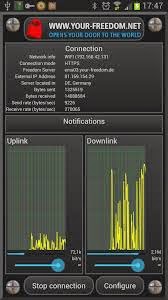 The only limitation is that YF gives you 2hrs free usage per
day… If you want to enjoy it to the full, make an upgrade.