I don't know what to call this but it seems its just a
season of completion… Not long a go MTN introduces Better talk plan and it has
been awesome all the way. Etisalat joined suite by introducing
Easy life 4.0
which allow you to call all network at 11kb/ per seconds, and I saw the package
as awesome.
Was surfing through MTN packages on twitter last night when
I stumble on another plan MTN introduced barely under 24hrs ago. It has the
same tariff plan with Etisalat Easy life and it is called MTN True Talk Plus.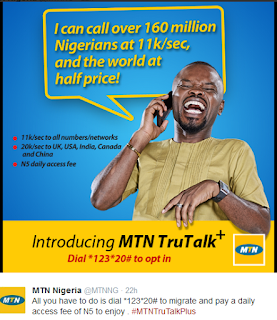 MTN True Talk Plus allows you to call all network in Nigeria
at 11 kobo per second, 20kb to UK, USA, India, Canada and China with a daily
charge access fee of N5 only.
How Can I Migrate to This Package?
==>dial *123*20#
For now,
MTN Better talk
and True talk+ with Etisalat
Easy
life 4.0
seems to be the cheapest among others.
Let the competition begin! But wait oooo, why won't they
compete in terms of data? I need 2GB for N500.