Orbi is a social networking
service that enables users share and receive voice notes. It's like Twitter,
but for voicenotes only. Orbi allows you record, listen and share voice notes
known as "orbs". Each voice note is limited to 9 seconds.
On Orbi, you create a profile,
post 9 seconds voice notes and get to discover people based on your personal
social network and interests. Other features allow users to favorite orbs, reply orbs and ever reorb (Just like twitter)>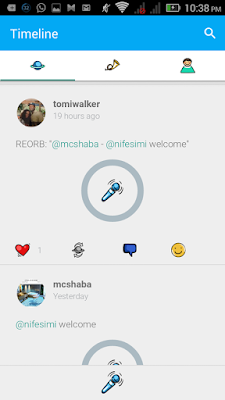 Orbi allows you to:

– Create your personal profile
– Find friends and other interesting people
– Post voice notes (orbs) that everyone can listen to
– Upload pictures to complement your orbs.
– Create hastags through captions
– React to orbs with location based smileys
Where Can I Download it?

For Android download it here
iPhone users (Coming soon)
Blackberry 10 users can download
it from play store.
I don't know why they keep sidelining blackberry users this
days most especially when it comes to new app.
It is new, it is good and I think
you should try it.