I love new development such as this
that gives you easy access to recharge without you typing the digits… This
crazy app was developed by an innovative Ghanian based company called
APPFICTION, it allow you to recharge with your phone camera. No internet needed.
The app is called
Credify
. It is an app
that loads your credit voucher using just your mobile phone camera.  The funniest aspect of it is that…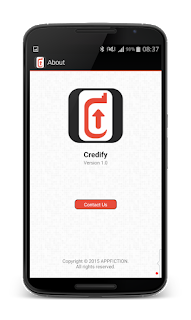 *No internet required.
*it supports all networks.
*Flash light for easy usage at night. 
All you have to do is:
1.      
Scratch the card to reveal the hidden digits.
2.      
Open the Credify app on your phone and show your camera to the scratched card.
3.      
Click the "Top up" button and voila! your credit is loaded onto your phone
For now it's only
available for Android, Blackberry 10 users can give it a shot
Download Credify App
here
This is
what I'm talking about, let technology do the work for you… Let us know if it
works for you. It has been tested in Ghana and it worked perfectly but I'll
give it a shot later today.