It has become a norm to always launch device when the year is about to end, not just device but smart device. That is why Infinixmobility is set to amaze you with their next device called Infinix BIG 6.
No much info is known yet about the device aside of the dual engine and flash charge; but it might likely
come bigger than ever  with 3GB Ram, 32GB Rom,  6000mah battery capacity and killer processor speed with unbeatable Selfie camera'.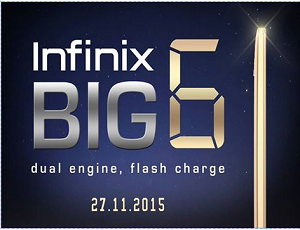 You want to know more about this device called Infinix Big 6, come 27-11-2015 it will be launch.
How much do you think this device will cost… N20,000, N23,000 or N25,000? Will it come with Android 6.0 Mashmallow or Android 5.1 Lollipop?