It's a brand new month and its expected for you to know the
best subscription that best suit your device and still work as at this moment.
At this point in time, you should already know the class which you fall in
terms of data consumption… I mean to say you know how many Gigs you consume in
a month therefore just go with the network that concerns you.
Airtel Nigeria: Where are those guys using Airtel sim? I
guess you are still staring, come over here because Airtel partnered with Payporte
determined to give Nigerians free internet for 6months and I don't want you to
miss out of it.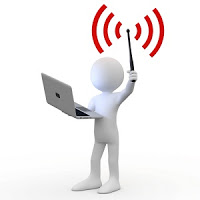 How Can I
activate it?
==>Visit http://webpass.opera.com/
==>Download the latest opera
mini browser and you are good to go.
==>Use
Airtel normal internet settings and you are good to go (apn:internet.ng.airtel.com
password and username internet)
Note you can also
use it on PC so long you have opera browser and it powers all your application.
Also
note that Airtel Blackberry plan and android plan as
been upgraded to 3GB.
To activate…
How Can I
Subscribe?
==>For Blackberry phones only
load N1,000 and dial *440*1# for 3GB
==>For other devices load N1,500
and dial *440*16# for 3GB.
MTN: Without much talk, Mtn BIS has actually been saving
life right from 1900BC with simple server
and open vpn on both Android, iOS devices and PC users are not left out.
Regardless of the type of Android you are using, so long you are rooted, SS
will work on your phone. BBMID and BBLited gives you 5GB both daily, weekly and
monthly.
How Can I Set up MTN BIS with SS?
For those of you who are new to simple server, and don't
know how to set it up on PC nor Android devices, please
click here
To subscribe for BBLITEM monthly dial *216*3*3#
For weekly dial *216*3*2#
For daily dial *216*3*1#
How to Use OpenVPN on Android, PC & iOS Devices
==>iOS users and Android users should download openvpn
from Playstore/Appstores while PC users should download
here
==>Download the configuration file
here
(use
any one)
==>Now import the file connect and enjoy uninterrupted browsing.
==>For username and password, visit
vpnbook
or use this (Username:
vpnbook
Password:
5UceCrAt)
How to Set up Psiphone with MTN BIS
To configure your psiphon for android, do the below
==>Download it
here
==>Launch it and configure the handler like this proxy:choose real host
Proxy server:web.blackberry.com
==>Save it & go to more options>Use HTTP>>Use the following
setting>>10.199.212.2 port:8080
==>Choose U.S.A …connect directly and start surfing.
And if all what I've written above still look like magic of
avatar, then you can sub for 1GB for N500 on Mtk Android devices;
see guide here
.
Etisalat: Etisalat plus psiphone still rocks like thunder
unlimited, with just N150, you can download unlimited both on Android and PC…
no need posting it again since it's already posted before.
For normal users, depending on how you often use your data,
you can always get Etisalat 1GB for N1,000 by dialing *229*2*7#
Glo: Glo recently upgraded their data database thereby
introducing 1GB for N1,000. Note that this plan works on all devices. No
tweaking involve just subscribe and vuamm… you are connected. See the image
below for guide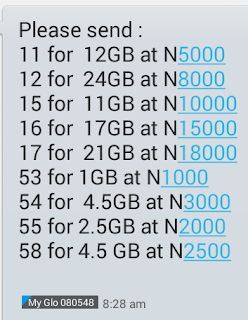 Are you still confuse? ask your question