It's a new month and its expected you
understand what data sub to go for this special period in order to avoid
excessive spending on data. My job is to make data sub cheaper and better for
you.
Etisalat:
Etisalat has been surfing unlimited for the past few weeks and I guess some of
you are aware while some are not aware but I'm going to make it brief and it
will be helpful to those who want to download large files or little files or
not files at all.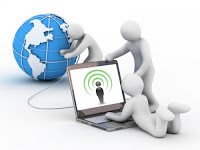 How to Surf With Etisalat Unlimitedly
You can either sub for daily (N50) or
weekly (N150) or monthly (N200) and you surfing becomes endless
==>To sub for daily Dial
*200*3*3*1*1# to subscribe and wait for chat pack welcome message
For PC Users and Android Users using
Simple Server, follow the configuration below
For PC Users

Connect Your Modem With:
» APN:
etisalat
» Open the file you extracted, double-click "SimpleServer.exe"and
make sure its always open.
» Configure
your Browsers and IDM: Proxy 127.0.0.1 Port 8080
» Remember to tick: Use this proxy
server for all protocols
» Start
surfing and downloading till mama call
For Android Users
»
Download
Android SimpleServer
here
.
»
Install it on your Android Device

Create New APN settings On Your Phone As Follows:
» Proxy: 127.0.0.1
» Port: 8080
» APN: etisalat
» Save And Activate it as your default
settings.

Open SimpleServer and Configure the Settings as follow:
» Proxy Host: 185.28.193.95
» Proxy Port: 8080
» Injection Method: GET
» Injection Querry/URL:
http://mobile.facebook.com
» Injection Host: mobile.facebook.com
» Injection line: press your enter key 4
times
» Log Level:DEBUG
» Close the settings and hit the connect
button, surf and keep downloading/streaming until you are tired.




Airtel NG:
Airtel for the past few
months, I'd actually dump my sim because they over charge me through data which
I think its not right or just. But they newly upgraded their
Blackberry plan
and android plan to 3GB.
To activate…
How Can I Subscribe?
==>For Blackberry phones only load N1,000
and dial *440*1# for 3GB
==>For other devices load N1,500
and dial *440*16# for 3GB.
MTN: No long stories on this as MTN BIS
still rock on Android, PC and IOS devices…
You are considering using Openvpn for
it, Please
click here
, and if you are familiar with simple server
click here
…
but for those who want to use it with Psiphon please read on…
How
To Setup Your PC With Psiphon
==>Subscribe to your favorite
BBLITED subscription
==>download your psiphon
here
>>run it as administrator.
==>launch simpleserver change any server you see inside to
web.blackberry.com now open psiphon then set like this settings>upstream
proxy=127.0.0.1 port:8080
==>save then choose any server U.S.A preferably then click connect
==>Open your firefox settings>network>connections>tick use system
proxy settings.
That's all starts blazing on your system unlimitedly.
How To Use Psiphon For Android Users
To configure your psiphon for android, do the below
==>Download it here
==>Launch it and configure the handler like this proxy:choose real host
Proxy server:web.blackberry.com
==>Save it & go to more options>Use HTTP>>Use the following
setting>>10.199.212.2 port:8080
==>Choose U.S.A …connect directly and start surfing.
Glo: They've been doing a classic work
so no much review is needed on this… Blackberry package always on point for all
Asian devices.