Opera Software has released Opera
50.0, the latest version of its Chromium-based browser for Windows, Mac and
Linux.
Opera 50 comes with new features.
Chief among these is the addition of an anti-Bitcoin mining tool, but there's
also support for both Chromecast and Oculus Rift VR headsets, better protection
for browsing sessions after crashes, and a major upgrade to its VPN service.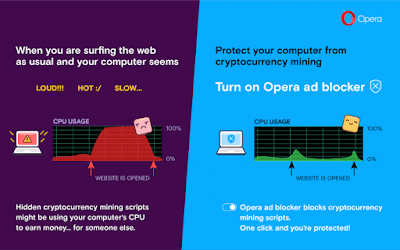 Bitcoin mining involves leaving hidden scripts on web pages that utilizes
user PCs to mine for Bitcoins on behalf of others. Symptoms can include sudden
spikes in CPU and temperature, as well as rapidly depleting battery life.
These scripts can continue to run even after the user leaves the website in
question and it's estimated 500 million people have been affected worldwide. This
is called "cryptojacking," and it isn't particularly great for users, who find
their machines become inexplicably sluggish.
Mercifully, the latest version of the Opera browser comes with built-in
protections against cryptojacking. Opera 50 uses the No Coin list, which is
updated regularly as new mining scripts emerge.
According to opera in a statement;
"We are fans of cryptocurrencies but we simply don't
accept that websites are using people's computers to mine coins without their
knowledge or consent. With the new Opera 50, we want to kick off 2018 by
providing people a simple way to regain control of their computers."
How to Activate it
Simply go
to Settings (Preferences on macOS) > Basic > Block Ads. The option will be visible under the Recommended lists menu.
You can download Opera 50 here.