Innjoo is just doing what they know how
to do best, and I guess most of you InnJoo lovers will really love this tablet.
If you are a kind of person that
appreciate dual OS, then read on…
Innjoo Flex tablet is one of the
latest crazy device that runs dual (two) operating system under the hood;
windows 10 and android. Meaning you have the capacity to choose the OS you want
to run on boot.
Not just
that but the innjoo Flex tablet can be use as a tablet device and a PC with
it's keyboard accessory and it's 10.1-inch Large screen display.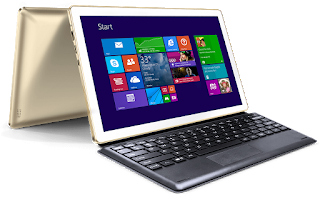 The device is powered by a Quad Core
processor with a RAM size of 2GB and 32 GB internal storage. The device also
sports a 2 megapixels back camera and 2 megapixels front facing camera with a
whooping 7000mAh battery capacity. A sim card and OTG supported.
It currently goes for N40,650 on
Jumia.
Remember it's festive season so this
tablet might be your latest baby or baby's baby.