Hello guys, those of you who have been anticipating to get the semi monster device,
Infinix Note 2 2GB Ram + 4G LTE, is now available at Slot stores across Nigeria. its by far better than the 1GB ram.
If you love it big, bold and bulky, then you need to take a walk down to the closest store wear this device is been sold.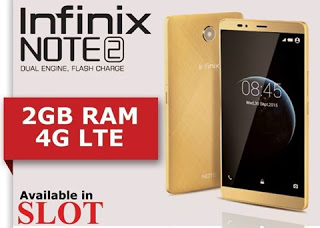 It currently goes for N37,000 in SLOT, don't know about Jumia yet.
See the full specifications here
Those of you that have gotten the 1GB Ram version, tell us your experience….