I know this is what you all have been waiting for the almighty
Marshmallow on your infinix hot 2 aka Android one. The roll out began over the weekend, and its
still been roll out via OTA. But if you can't wait for the Android Marshmallow
rollout, you can simply follow the procedures below to update your troublesome
device to Android 6.0 and save yourself all the problem it has given you so
far.
But it seems majority of the
Infinix hot 2
users are already
running the Infinix 5.1 XUI and not the follow come stock rom. Follow the below
guide to go back to Infinix Stock Rom before upgrading to Marshmallow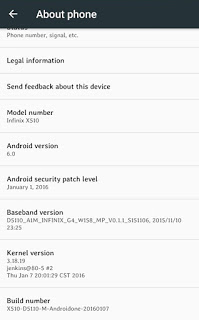 Before you begin…
Back up your files, contact and important apps because this
flashing process will rebrand your device and thus clear all your important
applications and files.
Requirements
>>Must be running on Android One Stock Rom (download
here
)
Follow the Steps to
flash Infinix hot2 Stock Rom
HERE
Once you are done with the above, then you are set to
install Android MarshMallow on your sweet device.
Where Can I Download Android 6.0?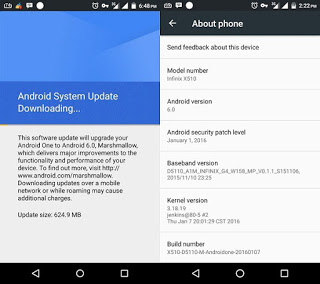 How to Flash it
==>Once you've downloaded the Android M zip file, Rename it to update.zip
==>Place it on the root of your SD Card (it shouldn't be in any folder)
==>Power off your phone
==>Hold Volume Up + Power Button
==>Release power button and tap volume up once you see the
"Infinix" Logo
==>It will show you a dead Android robot with a red sign
==>Press Volume Up or Volume down (device dependent) to get into the stock
recovery
==>Scroll down with Volume button to "Apply Update from SD Card"
==>Scroll down to the update.zip and select with the Power Button.

Install, and once installation is done, reboot your system and wait for system
to start.
Once your system reboot, you should now
see a re-branded new device running on Android 6.0. So if you've been having problem with the stock rom, or infinix 5.1 XUI, just upgrade it to 6.0 and you are good to go.
If you are confuse, ask your questions.
Credit: Guruslode