Android O has finally rolled out to all Infinix Note 4 as
promised; the update was announced just a week ago. According to the info, Note
4, Note 4 Pro and Zero 5 will receive
Android 8
oreo OTA update, but
infinix Note 4
couldn't wait for that date to come before the roll out.
A lot of users have already receive the updates on their
Note 4, some have installed it while some are yet to install it. Note that there
is bound to be a bug at first installation of this update but Infinix will
possibly roll out a system update to fix the bug.
Like I said earlier, before you update;
>>Make sure your device is not rooted otherwise it
will get bricked
>>make sure you have a back up of your current
firmware should in case the need arise to downgrade your device if the update
contains bugs
>>Ensure you phone batter is atleast 95% charged
>>You need upto 2GB to download the update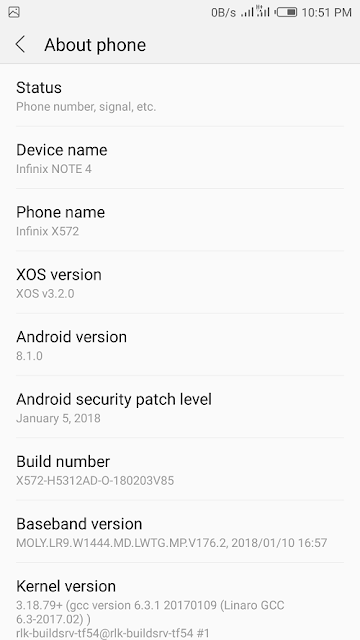 How to install the Infinix Note 4 Android 8.0 OTA update?
>>Go to settings>>About >>System, update
and search for an update. If an update is available,
>>Click on download and install
>>Once download is complete, restart your device &
install
>>Wait for your device to boot into recovery mode and
install the update. Do not interrupt the installation process.
>>Once the update is complete, your Infinix Note 4
X572 will reboot and you'll have Android 8.1.0 oreo running on your device with the latest version of XOS.
And if you've installed the Android Oreo update on your Note
4, please kindly let us if there is any bug you encounter while we await a possible system fix to be
rolled out by Infinix in the coming weeks.