Samsung has launched a website called "iTest" in a bit to win over iPhone users. The site allows iPhone users to get a little taste of Samsung all from within their iPhone.
Switching from an iPhone to Android is a big task for most people and this is exactly what Samsung is trying to tackle. By letting users experience how OneUI works and what it offers, Samsung is hoping to show iPhone users that their ecosystem is better.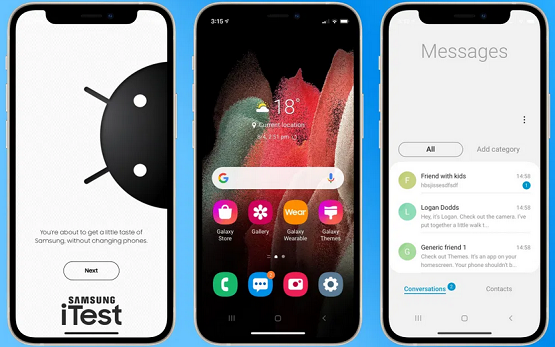 When you visit Samsung's iTest website, you'll be prompted to add the web application to your iPhone's home screen. Once you do this, you can launch it just like any other app and get some hands-on time with the Android interface.
When you're in the Samsung iTest app on your iPhone, you'll receive a variety of simulated text notifications and phone calls highlighting different things to try out and different ways of communicating with friends. And of course, Samsung is also using this as an opportunity to promote its other Galaxy products, such as Galaxy Buds Pro, Galaxy Watch3, and Galaxy Buds Live.
Samsung said
You're about to get a little taste of Samsung, without changing phones. We can't replicate every function, but you should quickly see that there's nothing daunting about switching to the other side.
In as much as you'll enjoy the simulated experience, it lags in some areas too… the apps only allow you to take a look at the splash screens, and there are also technical limitations to web apps.
You can access the site all over the world by clicking here. iPhone users, are you really going to switch to Android OS?