This is what I've been praying for in all telecom industry;
let competition be higher so that Android and iPhone users can have opportunity
to choose the best affordable network and data plan. I got a message yesterday
from Airtel Nigeria saying "Pay #1500 only for 2months BB unlimited Plan and
enjoy 4GB valid for 60 days".
If you can remember this plan
Airtel 4GB
was taken down some
months ago before they sent that annoying message to everyone that BIS will no
longer work on Non blackberry device. This is now making a lot of sense to me
because 4GB for 1500 will actually go a long way most especially for
iPad/iPhone, Windows and Android users who can't risk the
Glo BIS
on their
device.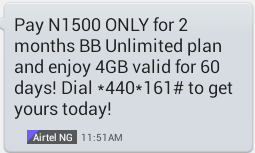 They've just realized that customers are porting to another
better network in no time that they expect. The question now is will you rather
go for this Blackberry Unlimited Plan for 1500 4GB or stayed glued to Glo BIS
3GB for 1k? Mind you,
PDProxy
is still rocking well with
Airtel #0.0
.
How Can I Get This Unlimited 4GB Plan?
==>Recharge #1500 on your Airtel Sim and
==>Dial *440*161#
Who Is Eligible For This Unlimited Plan
Everyone who receive the message is eligible for the
package; or better still, before you recharge dial *440*161# and you'll receive
a message if you are eligible or not.
Will It Work on My Device?
Currently works on All Nokia, iPhones/iPad, Androids,
Windows and
Blackberry
phones. After subscription, set your
apn to
internet.ng.airtel.com
, password and username:
internet
.
Glo
, Mtn and … is now making a whole lot of sense now.