I'll
personally give the creator of this application 5 star because it is a job well
done. Nigerian bank verifier is a simple application that
helps you verify the authenticity of any bank account. Take for instance, you
want to send money to someone, you can simply use this app to verify if the
person is the right person or not before sending.
Why
Should I Download This App?
>>It
helps you avoid being scammed by people
>>Prevent
identity theft
>>No
need to visit customer care anymore for account verification
>>Avoid
sending money to the wrong account number.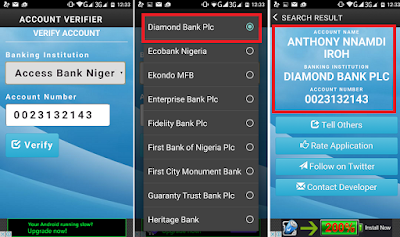 Everybody
should have it installed on their smarphone devices
Where
Can I Download it?
>>Download
it
here
and install it
>>open
the app and Select the bank name
>>Enter
a 10 digit Nigerian Bank account.
>>Click
on verify to know who owns the account number.
It
does exactly what it said.