Huawei
isn't taking it easy at all… Huawei had one major product announcement during
Mobile World Congress 2016: the MateBook. The tablet, which comes in both grey
and golden, is lighter than it looks (at 640 grams), very slim and features a
very nice 2160×1440 screen with only a very slim bezel around it.
The MateBook is designed to be an alternative to laptops and is thinner than
Microsoft's rival Surface Pro 4 thanks to its use of a USB-C port.
The Chinese firm is already the world's third-bestselling mobile
phone-maker, but until now had only made tablets powered by Android.
The MateBook features a 12in
(30.5cm) display and can be clipped into an add-on keyboard and used with a
stylus.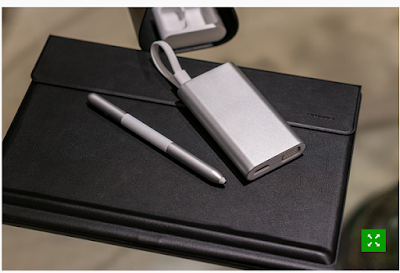 Its advantages over Microsoft's
Surface Pro 4 are that it is:
nearly 20% thinner, measuring 6.9mm
(0.3in) deep

about 20% lighter, weighing 630g
(1.4lb)

has a fingerprint sensor built into
its side, unlike the Surface Pro which requires its cover to be attached to use
the feature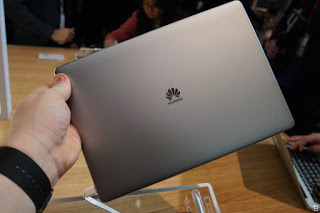 Specs
wise you have a variety of sixth-generation Intel Core M processors (a major
let down especially when others have Intel's more powerful Core i5 or i7
chips), the ability to choose either 4GB or 8GB of RAM and up to a 512GB SSD.
It
comes with a 5MP camera, a 4430mAh battery that Huawei claim will get 10
hours from that battery on a single charge and a fingerprint sensor built
into its side. One other unusual feature about the machine is that its stylus
includes a laser pointer at the opposite end to its nib.
Main
Features
Huawei MateBook specs summarized
Intel Core M processor: Core M3, up
to Core m7

Storage: 128GB, up to 512GB

RAM: 4GB or 8GB

5-megapixel front-facing camera, no
rear camera

12-inch, 2,160×1,440-pixel
resolution display

400-nit brightness

33.4-watt hour battery,
approximately 10 hours of battery life.
Price:
$699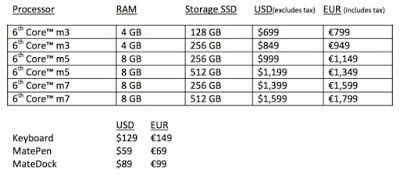 If
you have the opportunity, will you go for this device regardless of the price?