As you all know, every update always comes with its own
bugs. Hence, the just releases
Infinix Note 2 Android Marshmallow
came with few
bugs, if you haven't upgraded yet, take a pause and wait until infinix releases
bug fixes for the one listed below.
These are the few bugs reported by those who have already
upgraded to Android 6.0 Marshmallow
>>Setting picture as wallpaper or contact
fails… some selected pictures don't come up just crashes. Wifi
connection keep telling me other device don't have data.
>>Some games and apps are not running on Android 6.0
after the upgrade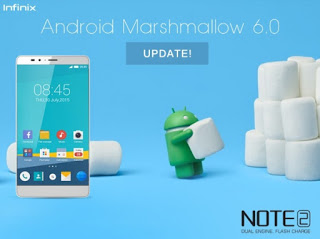 >>SD card write permission always changed back to internal
storage. And Even if it's been set to SD Card but it doesn't save data to card.
>>Task manager shows apps and after clearing apps it pop ups again. Responsiveness
is not satisfactory.
>>Facebook app not searching at all!
>> Multi-tasking not encouraging at all..
>>Can't identify the correct time remaining for the battery to drain,
hence there's a mis config. i don't know how well to fix it. but as the
screenshots below shows, on system manager app, the battery shows a larger
duration remaining, but on the settings under battery section, it shows less
period of time. (2) Multitasking need some improvement.
>>>I updated manually and flashed it from recovery
but now my camera in third party applications has no lightening and i am having
issues with 4g the 4g sign is shown but when i use internet it says proxy
problem internet connection error.
Please if you have upgraded your
Infinix Note 2
to
Marshmallow, kindly let us know if there are any bugs you notice and the fixes.
Infinix always listen to their users hence all these bugs will be fixed. Wait
for the bug fix update to be release soon.