Finally
OTA has arrived for Infinix Note 2. No need to download the raw file and flash
as reported days ago. You can automatically download it and upgrade your Infinix note 2 to Android 6.0 Marshmallow.
Please if you are rooted, kindly unroot before you update via OTA or else it
will bricked your device. And make sure you have about 90%
charge or connect your charger to your device before you download the OTA upgrade.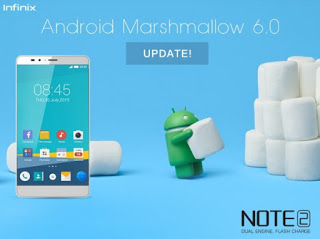 The
OTA download is around 716MB.
Those who have already upgraded to
Android 6.0
kindly report any bug you noticed with it here. Other
Infinix users should be expecting their own Android 6.0 soon.