VISAFONE
officially confirmed that MTN now owned
VISAFONE
. What you need to do next if
you are a VISAFONE subscriber is to migrate your VISAFONE line to MTN. VISAFONE
customer migration is a simple process of migration that allows all VISAFONE
numbers work on the MTN network and function as a GSM service.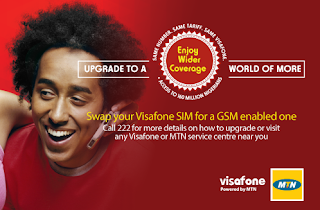 Here
are things you need to know before you migrate;
1.
VisaFone
is now owned by MTN
2.
Your
VISAFONE number will not change, it will be retained on the MTN network
3.
Your
Tarrif plan and data bundle will remain unique to VISAFONE
4.
The
Migration process and New SIM Card are FREE of charge.
5.
Your
line is expected to be active on the MTN Network within 24 hours of activation.
6.
You
cannot send someone to do the migration for you.
7.
You
will be able to access and retain your services on MTN after Migration. MTN GSM
network support both Voice and Data services.
8.
You'll
not be able to retain your VISAFONE airtime and data balances after the
migration to MTN but you'll be duly compensated after your migration is done.
9.
You
will still be charged based on Visafone product and service tariff plans
10.
Once
migrated, you will only be able to recharge with MTN vouchers using *556*
11.
You
will need to retain your phone with a GSM enabled phone except your old phone
is compatible with CDMA and GSM
12.
Visit
any MTN or VISAFONE retail outlet to perform the migration process
Requirements
For Migrating Your VISAFONE Line
1.
Duly filled Migration form (to be
provided to customer on visit).
2.
An active VISAFONE MSISDN.
3.
Three (3) frequently dialled
numbers.
4.
A Valid ID card – International
Passport (Data Page), Driver's license, National ID, Voters Card, etc.
5.
VISAFONE SIM or Starter Pack/kits
(Optional).