This is what we call a worthy data plan. A worthy data plan
is a plan that gives you 100% value of what you pay for.
MTN unveil this plan this week at the Africa's Biggest tech
event in Lagos-Nigeria by TechPlus
Normally,
3.5GB data goes for N2000
; but this time,
MTN
at
TechPlus
applied the multipliers effect that gives you 7GB of data for just
N2000. I know you love it when you get big data for lesser amount. This is
exactly 100% bonus.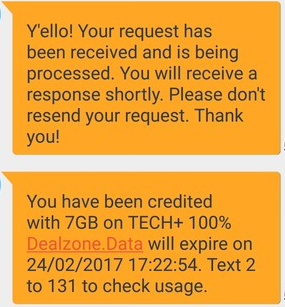 It is a new plan, a new deal for those who think they value
the use of data.
Will it Work on My Device?
Yes, it will work on all eligible devices including the un-repented
Symbian phones.
How Can I Get This Plan?
>>Load N2000 on your MTN line
>>Send 2016 to 131 and you'll receive a message that you have been credited with 7GB on Tech+
100% Dealzone.
But do you know what…. You can even get upto 9GB with your
N2000… Ask me How?
It is pretty simple. MTN is currently on weekend promo
called WowWeekend. This is how wow weekend works, when you recharge any amount,
you get free data e.g, when you recharge N200, you get free 100MB. When you
recharge N500 and above, you get free 1GB.
Load your line with MTN airtime of N2,000 and you'll get
free 2GB usable only from Friday to Sunday. You can then use your N2000 to get
7GB of data making it 9GB.
It is time to choose which network is your best when it
comes to data.