So I've been using this app for a while and I bet you, it is
what trying out. To be candid with you, it is not every message sent to my
social media platform I'll love to reply to and it won't be nice if the sender
of such message know that you read it and you didn't reply.
Be it on
Facebook
,
Whatsapp
, viber etc, I love my online
status to be hidden at least for once, let me enjoy my online privacy without "
Hi
",
"
whatsup
?"…
But I'm going to show you an app that let you read everybody's
message sent to you on Whatsapp, FB messenger, Viber etc without them knowing
you you've read it, it is called Unseen.
Unseen is an app that lets you read your friends messages on
Facebook IM, Whatsapp Viber etc without leaving any traces of last seen
notice or blue double check. You can read their messages anytime you
want to read it in incognito mode, without them knowing you've read it.
when you receive a message from one of these messenger apps,
it will also be received in the Unseen application. There, you
can read it freely, whenever you want, without having any of your friends
knowing that you have seen it. Only when you will decide to respond, the «
seen » or check-marks notice will be displayed.
Where Can I Get it?
>>Grant it access to access your contacts and you are all good to go.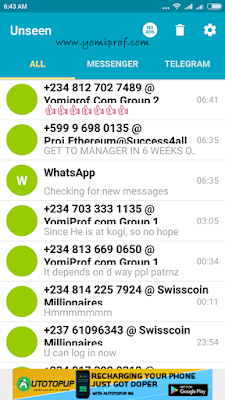 It is simple and easy to use… I bet you'll love it.
Are you using this app already or something similar to this?
Share us your experience…