Facebook has grew from been just an ordinary social media
app. It is now part of our everyday life, you can
buy/sell on Facebook
, shop on
FB and even do a lot more than that.
This time around, Facebook has introduced a new feature
called Wi-fi Discovery that allows users to find Free and Public WiFi hotspots
from within the App/website.
The new feature called Wi-Fi Discovery is being tested and
is designed to highlight places where Facebook users can access free and public
Wi-Fi places. This feature is currently available for iOS users and the testing
is currently available for some selected countries and should be available worldwide
by next month.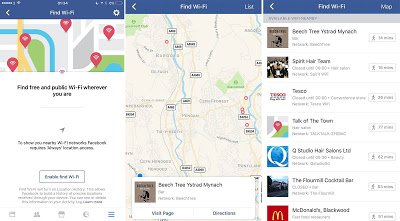 A
Facebook
spoke person confirmed this
"To help people stay
connected to the friends and experiences they care about, we are rolling out a
new feature that surfaces open Wi-Fi networks associated with nearby places."
How Can I Access it on iOS?
>>Update your Facebook App to the latest
>> scroll the menu option to locate the "Enable Find
Wi-Fi." Toggle the settings so its turn on and the app will automatically
detect the nearby free Wi-Fi.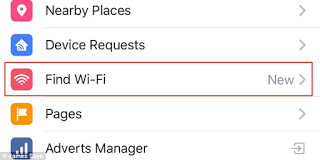 Note: For the Facebook WiFi Discovery feature to work, you
have to activate your Location.
It is a welcome development… waiting for it to be rolled out
globally.