Black Friday and Cyber Monday is
upon us and I don't want you to miss out on any deals at all. You can get the
best smartphones, laptops or any gadget for less, this period. It only happens
once in a year. If you miss this, till next year 2018 before you'll have items
this cheap again.
VK World Black Friday Deals
VKworld is offering you 50% off
deals on some of its smartphones. VKworld S8 has the biggest battery among all
full-screen phones. The battery capacity is as high as 5500mAh, which can last
for at least 2 days. It also supports fast charging up to 18W. Vkworld S8 is
also the first 18:9 phone to use titanium frame.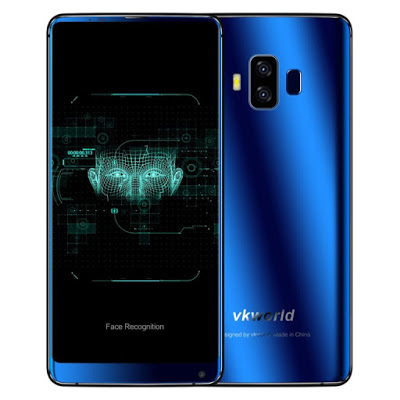 Vkworld S8 supports face
recognition like Samsung Galaxy S8. It can record up to 5 sets of Face IDs and
it takes less than 1s to unlock. It also features a 5.99″ in-cell IPS display
from LG,
4GB RAM
and
64GB
of storage, Sony
16MP/5MP dual rear camera, and a 13MP front camera. The origin
a
l price is
$229.99 but on Thanksgiving limited units will be available for
just $89.99
as well as 1000
pieces for
only $165.99
!
Ali Express Black Friday Deals
Check out Aliexpress Black Friday
and cyber Monday deals
here
on Fashion, smartphones like Xiaomi, Oukitel, Blueboo etc, laptops and others. You
also get upto 20 dollars store coupon code there.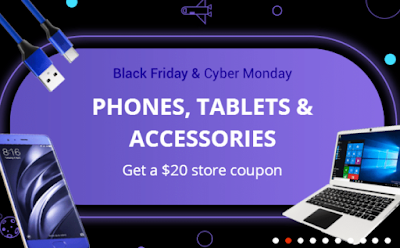 Jumia Black Friday Deals
You can also get cool price cut
down on any item on Jumia via its black Friday deals. You can get a brand new
laptop with 4GB Ram 500 HDD for as low as N84,990.
Get Free Voucher on Gionee
Smartphones
Enjoy these amazing discounts on all Gionee Smartphones from Friday 24th
November – 26th November on Jumia.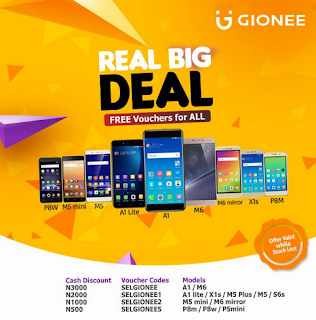 HOW TO ENJOY THE DISCOUNT.
1. Click on: https://www.jumia.com.ng/gionee-1507891196
2. Select your choice of Gionee phone
3. Click the Buy Now
4. Enter your phone voucher code in the voucher code box
5. Click the use button to enjoy your discount
6. Proceed to checkout