Infinix is not relenting in pushing updates to its users and now we have an updated version of Infinix Xclub 3.2.0.
Infinix Xclub 3.2.0 is the new released updated app from Infinix mobility and it comes with cool extra features which includes;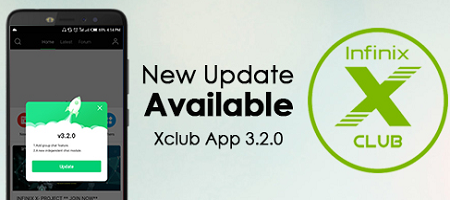 1. Improved Group Chat Feature:
You can now hold group discussions with other Xfans in the app and connect better with your fellow xclub members.
2. Independent Chat Module:
You can now chat privately with other Xclub members and create better inter-personal relationship.
How to Chat With others Infinix Xclub 3.2.0 members?
Step 1: Go under the "MESSAGE" of xclub, simply click the "+" symbol
Step 2: Type part of the xclub name or the full xclub name of the user you wish to find, then, click the "Search User" button
Step 3:  Xclub will bring out a list of users with that xclub name or similar name. The user's avatar/profile picture will help you identify them.
step 4:  Enjoy chatting with the user
Other Improvement in The App includes:
1. Multi-Level Sticky Option:
The sticky option on the Xclub has been improved with a multi-layered option that now displays in 3-levels.
2. Better Positioned Feedback Section:
The new update comes with an improved feedback section that is positioned to the right-hand side of the homepage when viewed on the PC. This update also comes with the option for deleting "Navigation Buglist" entry.
3. Better Moderator Details View:
This option allows you to get to know your moderator better. You can now click on the moderator's avatar to view more personal information about them. Also, moderators can now add more than six (6) results.
4. Elongated Sign-In Days:
Unlike the past, you now have a change in sign-in days changed from 5-days to 7-days. Also, there is a reward attached to this: if you are continuously signed in for 7-days straight, you are qualified to get 30 Xgolds.
Update your Xclub app if you are an infinix user and you'll have the latest features staring at you.