StarTimes Nigeria have announced planned reduction in subscription fee for its classic bouquet from N2,600 to N1,900 come September 1, with the inclusion of Ebony Life TV, ST Nollywood Plus and Fox and ST Kids to the bouquet.
The pay-TV company also declared a one month free access for all its subscribers starting from August 1 to 31 on all decoders, irrespective of subscription status to ensure customers have access to its new channels, available on the classic bouquet.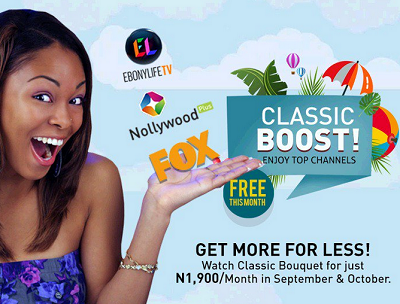 This is coming after DSTV increased their subscription fee to something subscribers are not happy about… and yet another disappoint on Sunday when DSTV and other cable TV left Nigerians hanging with nowhere to watch Manchester City Vs Chelsea… it was a moment of torture.
But yesterday 6th of August, StarTimes took to their handle and sympathized with Nigerians over the price hike by DStv and stated that it will reduce its highest bouquet price from N2,600 to N1,900, while adding Ebony Life TV, ST Nollywood Plus & Fox to the list of channels.
1. We are aware of the recent price hike in subscription by D other pay TV network and sincerely think that Nigerians deserve better.#PayLessForMore

— StarTimes Nigeria (@StarTimes_Ng) August 6, 2018
2. This price increment is highly insensitive to the current economic hardship most Nigerians who also happen to be pay-TV subscribers are faced with.#PayLessForMore

— StarTimes Nigeria (@StarTimes_Ng) August 6, 2018
About StarTimes
StarTimes is the leading digital TV operator in Africa, serving nearly 20 million users with a signal covering the whole continent and a massive distribution network of 200 brand halls, 3,000 convenience stores and 5,000 distributors.
StarTimes owns a featured content platform, with 480 authorized channels consisting of news, movies, series, sports, entertainment, children's programs, etc.
The company's vision is to ensure that every African family can access, afford, watch and share the beauty of digital TV.