The season is here again and we have the 4th edition of Airtel 5 days of Love. Airtel Nigeria has kicked-off its 2018 Christmas programme tagged: 'Airtel Five Days of Love' to identify with and empower less privileged persons in communities where the telco operates.
Since the commencement of the initiative four years ago, Airtel has held different outreach programmes, especially its feeding programme, which over 10,000 Nigerians have benefited from.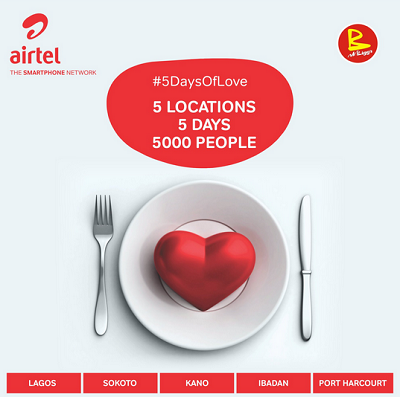 According to Airtel, the '2018 Five Days of Love' programme will be held in five states this week, these are, Ojuelegba Under Bridge, Lagos; Opposite Sultan Palace, Sokoto; Gyadi Primary School, Kano; Sango Tipper Garage, Ibadan and Isaac Boro Park, Port Harcourt to feed over five thousand Nigerians in all locations.
"Through the 'Five Days of Love' programme, we will be sharing the reason for the season –love– and celebrating with the underprivileged by providing quality, hot meals amidst an electrifying atmosphere of fun, good entertainment and love,"
Airtel is committed to touching the lives of the needy in the society and empowering stakeholders in the communities where it operates.