There is a scam message being passed around on WhatsApp that
totally misleads users on how to get
Whatsapp video
call feature. The WhatsApp
message has a link to a website that asks you to enable video calls by sharing
the link to friends and groups. As seen in the picture below;
The link (whatapp..net.videoenable.co) takes you to a website
that does nothing but trick you into clicking a button to invite friends and
later sending you to another sponsored link. You're first showing a fake
progress bar that claims to enable the video calling feature.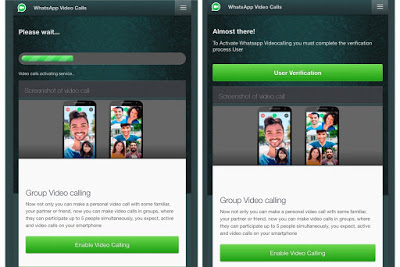 Like I said, update your whatsapp to the latest version from Google Play store
here
to get the whatsapp video call feature if you are yet to activate yours.