WhatsApp has started rolling out its new Communities group feature to users of its Android beta app, WABetaInfo reports.
Back in November, it was officially reported that community feature will be coming to whatsApp but no launch date, as well as spotting it on WhatsApp for Desktop.
The first release of Communities on WhatsApp beta for Android 2.22.19.3 suggests the company is in its final testing stages before launching it on the official app.
Communities will allow group admins to create one large, overarching group with multiple sub-groups for different topics or interest groups.
For example, users will be able to create one big group with sub-groups for each aspect of discussion or extracurricular activity.
Admins can then also send announcements to the entire group to reach all users.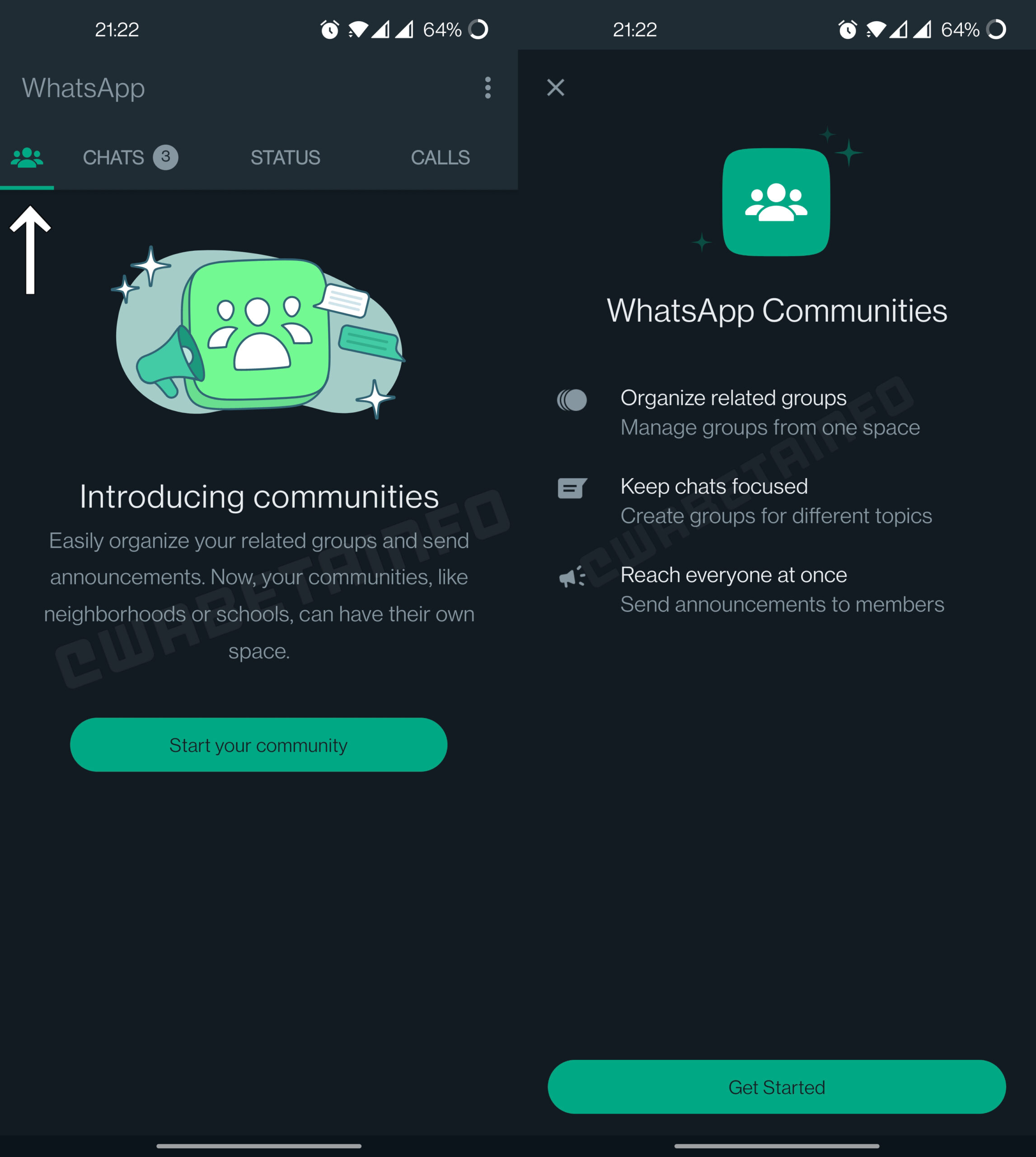 The screenshot below shows that the Communities section of the app will get its own dedicated app next to "Chats", replacing the camera shortcut.
How Do I Get The Community Feature?
The feature is gradually rolling out to some selected beta testers, and I'll suggest you update your app maybe you are part of the lucky ones.
To check if the communities tab shows up instead of the camera tab. If the communities tab is available (and we recommend killing and re-opening the app after the update to test it), you can already start creating a community by adding up to 10 groups; these groups are called "sub-groups" and they support up to 512 participants.
A community member can choose which sub-group to join based on their personal preferences and they can leave a sub-group without leaving a community.
Community admins can also disable a community if they don't want to use it anymore, and other members can report the community to WhatsApp if it violates their terms of service.
After creating a community, a new group is automatically created by WhatsApp: it is the announcement group. Thanks to the announcement group, community admins can send messages that are always visible to all members of the community.
The addition of Communities will give WhatsApp similar functionality to Telegram's Channel.
According to report, WhatsApp is working on hiding phone numbers in sub-groups of a community, so other members of the community cannot see your phone number. The update is still in work until the final roll out.
Let us know in the comment if the community tab shows up for you.