Data is important and I'm aware you all love anything that has to do with cheap data plans, Glo the grand master of data has already unveiled what you'll love 1.2GB for N200, and by the end of the month you must have used 12GB for N2000.
Well, Airtel is not left out in this even though you are still enjoying triple data offer and free 4GB data if you successfully purchase or upgrade to a new 4G Sim.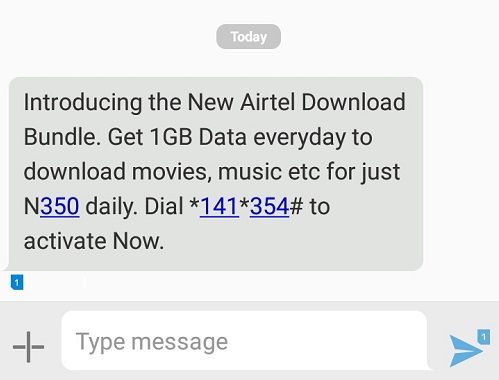 Airtel Download Bundle is a new plan from Airtel NG specifically meant for downloading. Maybe you have something like movies to download or any doc at all, then Airtel download bundle might come in handy for you.
It gives you 1GB for N350 and valid for just 24hours.
How Do I Get Airtel Download bundle?
Dial *141*354# to get the plan
Note: this offer is valid just for a day and works on all mobile devices and Personal computers.
The only difference between this offer and that of N500 for 1GB valid for 7 days is just the duration. If you don't have anything to download, no need going for this offer except you just want to experiment with it.
Let's know your thought on this new offer.