Samsung Electronics announced the industry's first 1TB eUFS 2.1 (embedded Universal Flash Storage) for smartphones.
This 1TB embedded Universal Flash Storage (eUFS) will allow smartphones to offer 1TB of internal storage space without the need for expandable microSD storage. Samsung Galaxy 10+ may likely be the first phone to feature it.
"The 1TB eUFS is expected to play a critical role in bringing a more notebook-like user experience to the next generation of mobile devices," said Samsung.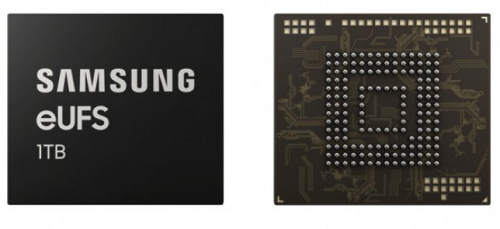 This new flash storage chip has the same package size as the previous-generation 512GB solution, using Samsung's 512-gigabit V-NAND flash memory to deliver more capacity in the same form factor.
Samsung said its 1TB flash storage will also support file transfer speeds of up to 1GB/s.
The company plans to expand the production of its new flash storage chips throughout the first half of 2019 to meet the demand from manufacturers.