Have you heard of Cashbox? Have you started saving for Christmas? Well, Cashbox is here to help you cultivate the habit starting from as little as N100 while earning interest.
Cashbox is a Nigerian digital saving platform which helps you cultivate the habit of saving for as low as N100 and earn interest as high as 15% annually. Savings has become a difficult task for most people, but with this platform, you can cut down your expenses, and increase your saving habit.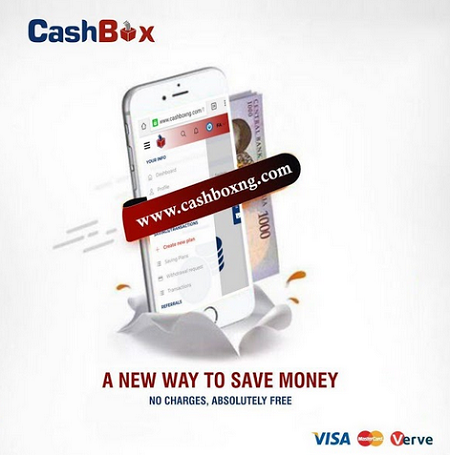 If you save N100 every day for 365 days, you would have saved N36,500. If you save N100 every day from now till December 25th, you would have saved N10,400.
How Does it Work?
There are three plans for users who wish to save on Cashbox; the first is the regular saver designed mainly for salary earners.
Regular Saver:
The Regular Saver allows users save any amount as low as N100 regularly on a daily, weekly, or monthly basis, depending on the one convenient for the user.
Users on this plan earn between 7 to 10 percent interest annually and are at liberty to suspend their savings at any time. They are also entitled to make four withdrawals at no cost, on the first day of the last month of every quarter, which is March, June, September and December and any withdrawal done outside these days attracts a five percent charge on the account.
Locked Savings:
Locked Savings works like a normal fixed deposit account of Deposit "Money Banks, DMBs. Nonetheless, users get their interest upfront and minimum tenor for the plan is 90 days.
Users of the plan can earn as high as 15 percent interest per annum depending on the length of time and are open to the option of rolling-over or withdraw their savings at maturity.
Instant Saver:
Instant Savings gives users the opportunity to add more funds to their saving plan or, save any amount instantly, while still running their regular saver account.
How Save is my Money?
This is the most important question every saver should ask. Your funds are safe and securely held with partner bank which is NDIC (Nigeria Deposit Insurance Corporation) insured.
How do I begin?
Download the app here for Android,
The app is coming soon for iOS users
You