All MTN subscribers have been lamenting of slow data speed even though the network displays strong 4G connection in most locations due to some circumstances beyond MTN.
The network opens some sites, and some won't even load and this has kept subscribers frustrated, now comparing MTN to Glo network speed.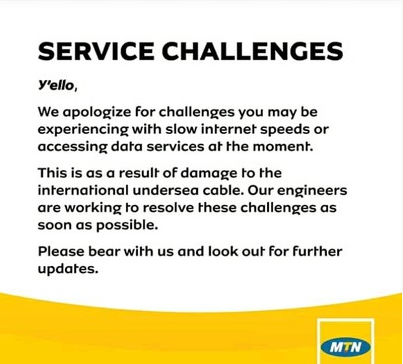 MTN Nigeria thus, sent a message across to all subscribers stating that "We apologize for slow data speeds and difficulty with accessing the internet. Please bear with us as we work to resolve the issue" without stating the real cause of the slow data speed.
Further digging reveals that a technical fault with two submarine cables has caused Internet to slow across a number of African nations as a result of damages.
The outages first occurred on Thursday (January 16). The cables involved are the South Atlantic 3/West Africa (SAT-3) and the West Africa Cable System (WACS), both of which run from Africa to Europe.
A total of 13 countries were impacted, with local news outlets describing cases of slow Internet speeds and outages. Some of the nations affected include South Africa, Ghana, the Ivory Coast, Nigeria, Gabon, and Cameroon.
I'll therefore suggest you switch to any other network that is better within your location pending till when the issue will be resolve. You can use this to check which network is best in your location.
Airtel to the rescue…
Let us know if your internet is slow or not