This is to all Samsung users and it's
very important you read carefully. A loyal and committed blog reader just drew
my attention to the latest Lollipop updates bugs so that you won't fall victim
of it.
Lollipop 5.0.1 updates
was rolled out
a week ago to
Samsung Galaxy
users and it's been causing lots of problems. A
lot of people who has updated their Samsung Galaxy to Lollipop 5.0.1 have been
complaining heavily. See some of the there complain below;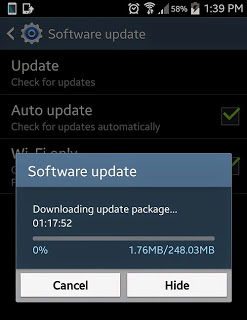 The update has:
1) Significantly slowed my phone down.
2) The delete button for e-mails is relocated, annoying.
3) Close all applications…takes forever.
4) All my favorites lost on internet.
5) All new color and themes, which I didn't want.
"I cant assign message ring tone to
contacts, Now mine keeps rebooting , 8 times so far today , the new colors are
ugly"
"I have had my g4 for nearly a year but
I hate it now with 5.0.1….BRIGHT. Terrible eyestrain. Blinding white
background black text. The dimmest setting on my phone is still brighter than I
can tolerate causing headaches and vertigo if I use it for more than a few min."
New update feels like more of a
'down-grade'!
The following features are no longer available:-
1) To be able to skip songs straight from the lock-screen.
(Now I have to log into my phone every time I want to skip a track, this is
especially not fun when exercising!)
2) The A-Z feature is now missing from the music player when listening to
playlists.
3) Can no longer send group text messages.
4) Where have the text messaging emoticons gone?
Also not to mention the fact that the new interface is not at all visually
pleasing, nasty color choices!


The truth is, this update crashes lots of apps.. and
most annoying is it stops "MESSAGES".
This is just few that I can extract; so
if you are a
Samsung Galaxy
user and you see the updates, don't updates yet if
not, you'll hate your new Galaxy device.