TGIF People and I guess you are all nicodemously staring at the
dimension your weekend is taking? Let me quickly share with you the app of the
week Shazam because I know you love music.
Shazam is one of the world's most popular apps, used by
hundreds of millions of people each month to instantly identify music that's
playing and see what others are discovering. All for free.
You have One-tap access to video clips, song lyrics, related
tracks and streaming services, where you can listen to your Shazams in full.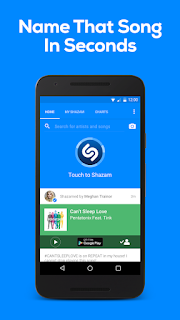 With this app, you can simply do the below:
• Identify music with one tap
• Simply log in to sync all your Shazams across all devices
• Shazam Offline: Identify music even when you're not connected!*
• Sing along to songs with real-time music lyrics, or watch their YouTube
videos
• Follow your favorite artists to see what they're Shazaming
• Preview songs and add them to Spotify playlists
• Launch Pandora radio based on artists you Shazam
Where Can I Download it?
For iPhone users download it
here
For Android users, download it
here
For Windows phone users, download
here
Shazam will automatically identify the music playing around
you, so you'll never miss another song – or worry about tapping each time one
comes on. Keep your weekend burning with music.