Konga, Nigeria's foremost e-commerce giant, has revealed that a minimum of 10,000 shoppers will benefit from its N10m fund set up to cushion the effects of the dreaded coronavirus (COVID-19).
The N10m intervention package announced earlier, is being disbursed to customers through vouchers, and will go towards offsetting essential purchases made by customers during this period.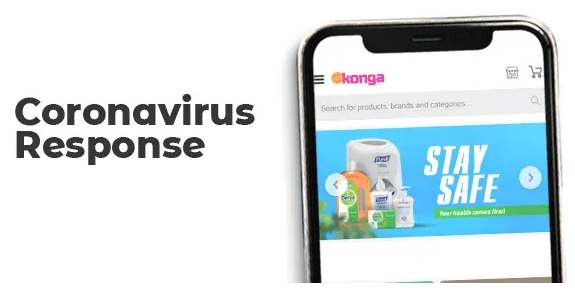 Furthermore, Konga is offering free shipping for purchases made during the period, even as it has assured its teeming customers of best prices for all categories of products and especially for essential items shopped on its platforms.
To access the Konga N10m COVID-19 fund, simply add the code SOLOSAFE on your check-out page when shopping online @ Konga.com
According to the CEO of Konga,
''From now until Monday, April 6, customers can access the N10m fund we have set up to support them through this COVID-19 crisis. All you have to do is add the code – SOLOSAFE – when checking out and the value of your shopping cart is automatically deducted. At Konga, we believe that we must all row to keep the boat moving, hence the #SoloSafe which situates our position in these trying times.
''Basically, we understand the utmost importance of social distancing and staying at home as a means of keeping safe. But at the same time, we also understand the essence of standing together as a people. Indeed, our belief is that we will only be able to overcome COVID-19 by banding together, staying vigilant and showing up for each other.

''Most importantly, we realize that our customers need us more than ever before. Therefore, as you practise social distancing and stay at home this period, be rest assured that Konga is there to bring your shopping needs to you delivered safe and contact-less through Kxpress, our logistics platform.
Also, you can process your mobile and utilities payment seamlessly from the comfort of your homes through KongaPay, our CBN-licensed mobile money wallet,''
Source: Daily Post via: Yomiprof.net