The much awaited challenger is here, MTN Chat Messenger code name 'Ayoba', and may likely unseat the popular instant messenger WhatsApp and Telegram in Africa.
Telecommunication giant, MTN has taken the bull by the horn, launched a new instant messaging mobile app called 'Ayoba'. You can send and receive messages, chat with your friends, transfer money and more.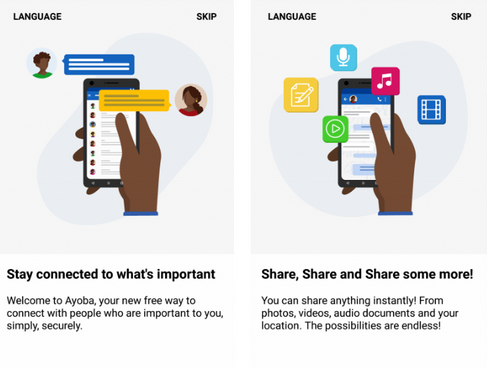 According to MTN, Ayoba simply means 'super cool'… meaning every MTN service is super cool. Optimized for memory efficiency as its size is drastically small when compared to WhatsApp.
The app has been in beta for months and it is still closer to perfection…
A major difference from other instant messaging apps is that Ayoba has SMS integration. What this means is that you can send a message to anyone even if they are not using Ayoba.
10 Distinct Features of Ayoba
1. Free to Use: Ayoba is free to use. You need data to send messages and files to your contacts, but some networks (e.g. MTN) may provide this data for free too.
2. Easy Sharing: Share videos, images, audio, and other files with your contacts.
3. Quick Connect: Use your existing address book to quickly and easily connect you with your contacts.
4. Calls: You can make calls within the app using your voice connection
5. Chat Now: Instantly send and receive text and voice messages with any of your contacts.
6. It has end-to-end encryption. Meaning your messages cannot be read by anyone else
7. Group Chat: You can create your own group, to easily communicate with friends and family.
8. Share real time location with your contacts without hassle
9. Chat with Everyone: end SMS text messages with anyone in your contact list, regardless of whether they've installed Ayoba or not
10. Money Transfer: Make and receive payments via Mobile Money (Coming Soon)
Where Can I download it
You can download it on your Android smartphone here or from Google play store. iOS version is not ready.
The installation process is very simple, all you require is the pin that has been sent to the phone number you registered with.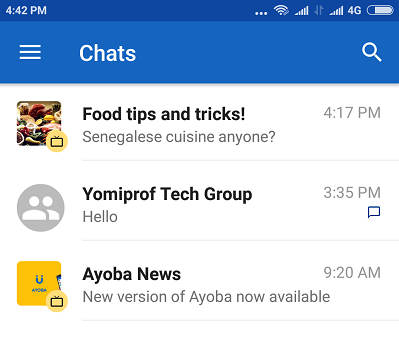 Chat interface looks similar to what we have on WhatsApp, and users can import contacts from their phone contact list.
The Sidebar reminds me of Blackberry Messenger where you can join any channel of your choice. With this option, the chat messenger promise to cure you of boredom. Guys, there are more to explore.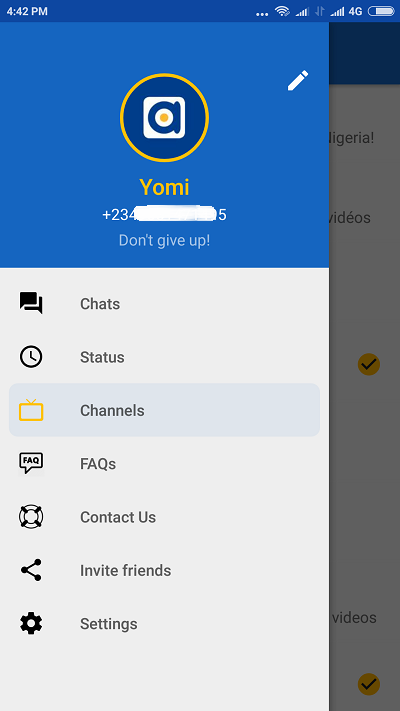 You can set a download limit based on your data budget, you can set it such that it does not download media that is greater than 20MB and you can also compress files if you want. Of course, the regular backing up your chats to the cloud and end-to-end encryption is provided with the app.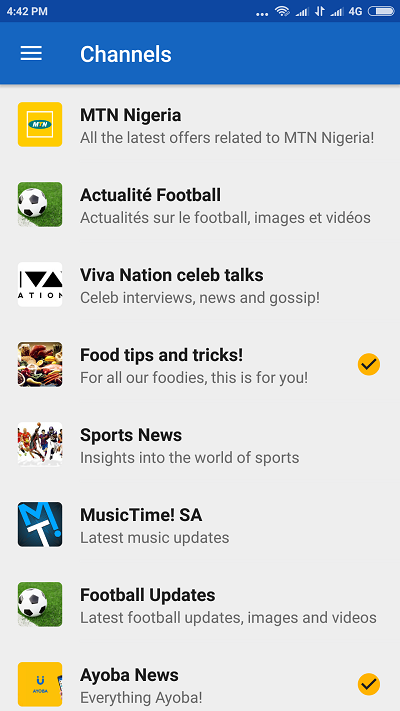 This app already have downloads of over 500K and it's yet to officially launch in Nigeria with over 60 million subscribers base. I believe MTN is waiting for the right time to officially announce it in Nigeria couple with the fact that they just obtained a Super Agent Licence from the Central Bank of Nigeria to aid its Fintech -Yello Digital Financial Services Limited.
Expect promo soon from MTN to Debut the launch of Ayoba in Nigeria. South Africans are already rocking the app; Nigerians are yet to board the flight.