WhatsApp Status, just like Snapchat and Facebook status allows you to share public content with all of your WhatsApp contacts, either through videos, photos or text.
The premise of WhatsApp Status is much the same as traditional 'story' which is you can share a picture or video with your contacts for 24 hours, after which the picture or video will disappear.
Most times, you ask your friends to send you a particular funny video display on their status but some will refuse, some will pretend not to see your message because the video is exclusively to them. The same thing is applicable to Instagram Videos.
But today, I'm going to show you how to save or download Status videos, photos or anything on your phone the easy way.
How to Save WhatsApp Story Photos and Videos Using File Explorer
1. For this first method, first of all view the status which you want to save on WhatsApp and simply go to your default file manager on Android
2. Open your File Manager app – Files, File Manager, Solid Explorer; etc.
3. Enable "show hidden files". You need to open the settings of your file manager and set it to show hidden files.
4. Navigate to the WhatsApp folder – Internal storage > WhatsApp > Media > .Statuses.
5. Copy the photos/videos which you want to save.
6. Paste them into a different folder.
The copied photos or videos will be stored forever. You can access them later by opening the folder where it was copied to.
How to Save WhatsApp Story Videos and Photos
1. Download a third party app called Status Saver here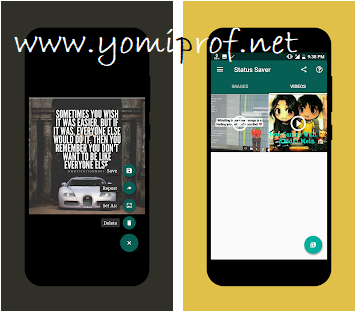 2. Install the app and grant it permission to access your storage. It automatically fetches all your contacts WhatsApp stories video or photos.
How to Download a WhatsApp Status on iOS
iOS users don't have much choice other than to screenshot or record an active status on WhatsApp.
On an iPhone X or later, you will have to press and hold the power button and then click the volume up button to grab a screenshot. The rest of the users will have to press and hold the top/side buttons and then immediately click the home key.
For recording the screen, you can utilize the native tool too. To add it to the control center for quick access, go to Settings > Control Center > Customize Controls, and under More Controls, locate Screen Recording tap the green plus button. Now, fire up the video you'd like to download on WhatsApp. Pull up the control center, touch the screen recording button, and off you go.
That is it!