This is probably the period where you do much of downloads of movies or files because of the lockdown, and to those that work remotely with their phones.
Downloads using your phone browser may take forever complete except if you are using a superfast internet connection. You can check here to see the fastest network in your location.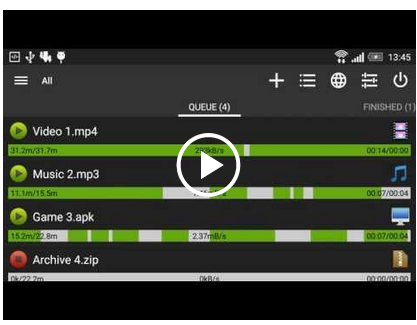 However, we want to make this easier for you by making your download much faster than you can ever imagine. IDM has been available for PC users, which automatically grabs your download links and make it super faster when downloading… But for Android, the ADM downloader is here for the rescue.
ADM (Advance Download Manager), like IDM, makes your download easier and 10x faster than normal downloads. It automatically grabs any downloads from your smartphones once installed. It grabs downloads form your browser, Netflix Premium Mod, Showbox and any other movie apps installed on your smartphone.
Some of you are already using it, if you are not using it, here are some of the key features of ADM
Here are the Key Features of ADM
– download up to three files simultaneously;
– accelerated download by using multithreading (9 parts)
– interception of links from the browser and clipboard;
– icon of the program and downloading progress in the notification panel;
– backup list of downloads and settings on SD card;
– completion notification by sound and vibration;
– resume after reconnection or program restart;
– save different file types in different folders;
– built-in browser for sites with registration;
– plan files download on a schedule;
– widget on your home screen;
– site manager;
– and many more…
 Add links from browser:
 – press on the link and from the window "Complete action using" select ADM (supported by Stock Browser, Dolphin, Boat Browser, Chrome)
 – long press on a link to display the context menu, press "Share link" and from the window "Share via" select ADM
… and much more
How to Get ADM Pro
Download it here
Unfortunately, you cannot download YouTube videos with it, other channels can be used to download YouTube Videos without stress.

Let us know if you are already using this app in the comment.
Via: YomiProf