The day you are all been waiting for is finally here and by 11:45 PM today 26 of June, the N-Power portal will be open and you'll be able to apply for your desired sub-program. Any registration before this time are Null, and void.
But before that, here are the few things you need to get yourself prepared for before the portal re-opens today.
The portal will be open to all eligible Nigerians and it important to note that the application process is completely free and there is no application fee.
Read This Before You Apply
1. N-Power is open to applicants between the age of 18 – 35 (Those born between 1985, and 2002).
2. Before You Apply, Ensure you have the following
a. Printout or accurate details of your BVN Number
b. Recent Passport Photograph (IMB) either JPEG or PNG files.
c. Valid contact: Email and working phone number
d. Your Degree certificates, and NYSC certificate (For N-Teach or N-Health)
3. Log on to www.npower.fmhds.gov.ng once the portal re-opens.
4. On the application portal, you'll be required to read the following terms and conditions of the N-Power programme as seen in the screenshot below.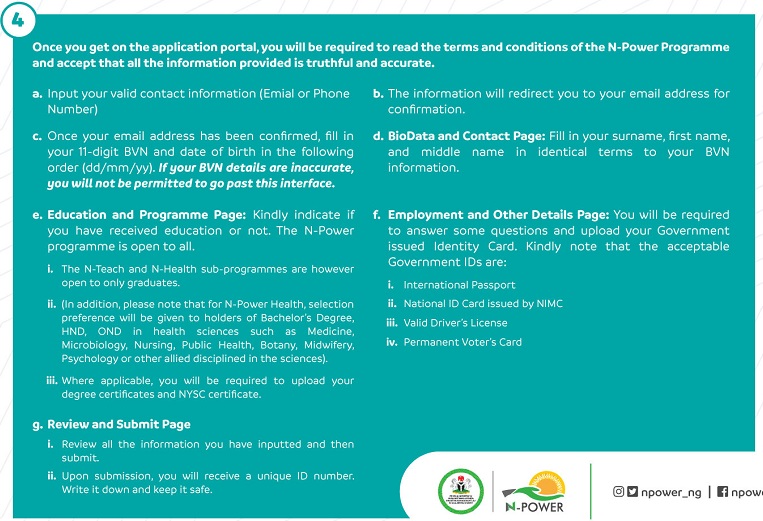 Note:
It is important to note that once the portal re-open, it will be crowded with visitors and there is every tendency for it to be slow to access or even crashed the page, with this in mind, you need to keep trying until it becomes accessible.