As we earlier discussed, OPPO has launched 125W Fast charge technology and a new range of charges. Oppo's 125W option promises to power up your 4,000mAh smartphone from empty to full in just 20 minutes.
Besides, Oppo unveiled a speedy 65W wireless charging AirVOOC dock, a notable upgrade from the company's already fast 40W option. There are also new 110W and 50W compact GaN chargers on the way if you're looking for a high-power plug with a little less bulk.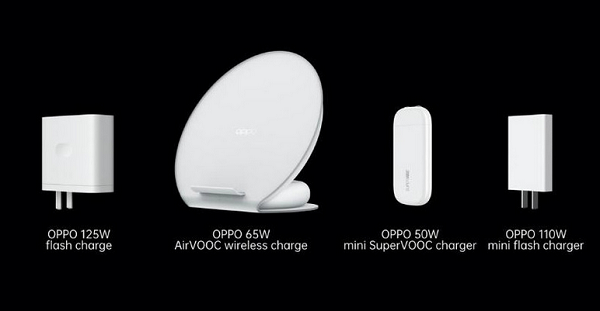 The AirVOOC wireless flash charge adopts a circular design for better cooling, a glass panel for heat dissipation, and "self-developed isolated charge pump technology" with parallel dual-coil design to increase wireless charging efficiency.
It operates on the same level as the wired 65W SuperVOOC 2.0 – two coils are charged simultaneously and a full charge of a 4,000 mAh battery should take about 30 minutes.
Everything You Should Know About OPPO 125W Fast Charge Technology
1. Oppo's 125W standard claims to power up a 4,000mAh battery to full in 20 minutes and will hit 41% capacity in just five minutes. This is all achieved while keeping the phone's battery under 40°C, which will help offset some battery degradation.
2. In order to protect the power cell and the smartphone, the design of the tech comes with three parallel charge pumps that split the power, and Oppo has implemented 10 additional temperature sensors for extra safety.
3. The 125W charger is compatible with USB Power Delivery (PD) at 65W, and USB Power Delivery Programmable Power Supply (PPS) at 125W. This makes Oppo's new charger a one-size-fits-all solution for virtually all your gadgets.
What is unclear at the moment is how colossal 125W charging affects long term battery capacity and lifespan.