[Modified]: This is an interesting tool that is going to help you determine the best performing network speed in terms of data in your locations. Even before you subscribe, you'll see which network is fastest and the slowest in your location.
Whofast is a platform developed by Play Data Africa, and it lets you compare the best performing data networks in your home or office.
Call it an internet speed test app, but this one gives you more information like the best places to use a particular network not just in Nigeria but in Africa as a whole.
I used it to test in different locations I found myself over the weekend and the app never disappoint. Maybe you got into a new location for the first time, you can simply use it to check which network is best performing or know the strength of your current network if its fast enough all over Africa.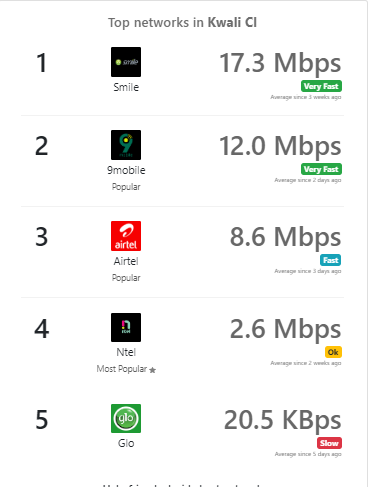 Like the image below, you can see the top performing network in terms of data speed, so you have the option to choose which one is suitable for you.
How to Check with Network is Best in Your Area
First of all for all Android users, download the app here
iOS user can download the app here or if you don't want to download the app, you can simply visit https://whofastpass.comWait for the result… You can even compare the result with speedtest.net result to be fully sure.
The developer did an amazing work because a tool like this is much needed to check and test the best performing network in your localities.
Let us know what you think in comment.
via: Yomiprof.net