Earlier this year in March, OPay reveals plans to launch its debit card this year which is a vital product of the company targeted at increasing transactions on the Opay platform.
OPay cards will be directly linked to OPay wallets, and when launched, the product is expected to afford individuals with Opay wallets the luxury of using their cards on ATMs, POS terminals at merchant locations, and e-commerce sites.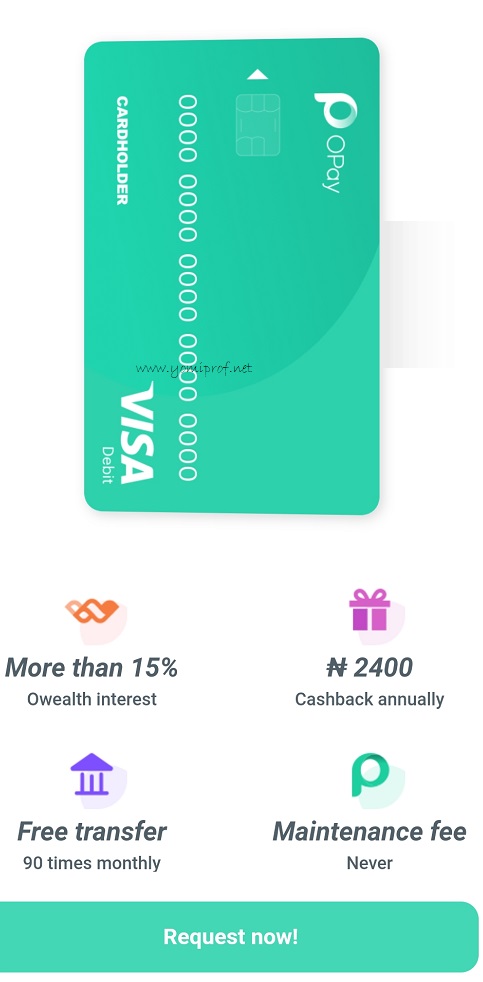 The good news is that the OPay Debit card is now available, and you can make a request if you have an OPay wallet. The OPay ATM card allows you to earn thousands of cash back every year. As long as you keep transacting with your card, you keep accumulating massive cashback for yourself.
Exclusive Features of OPay Debit Visa Card
Make purchases via POS, WEB, and ATM anywhere in Nigeria and other supported countries
Available in naira denominations. Instant access to the account in OPay
Acceptable anywhere in Nigeria
Zero lost card liability
Cardholder inquiry service
Lost/stolen reporting
More than 15% Owealth interest
Cash back annually depending on what you have on your Owealth
No maintenance fee
Free transfer to any bank account 90 times monthly
How to Request for OPay Debit Visa Card
>>Log in to your OPay App.
>>Click on "Me".
>>Click on "Request for OPay Debit card".
>>At the Referral Column, put your invite referral code or you can skip it
>>Choose your Identity verification Type (National ID, Intl. Passport, Driver Licence)
>>Select your Pick up Location, or choose Express to have the card delivered to your home or office address for a flat fee of N1000 (N700 + N300 delivery fee)
>>Fill in the Necessary Details Required.
>>Then make a payment of N700 which is the ATM Card Fee.
Confirm and you are good to go.
Note: Once you receive the card, Activate the Debit card via the app and visit any nearby Zenith bank ATM to complete the activation.