In February, we announced that two premium features were coming to Twitter one of which is the Super follows feature. In a recent update, Twitter has opened the test application process for users to apply for two premium services – Ticketed Spaces and Super Follow.
Ticketed Spaces allows users to set an entry fee for their Spaces, ranging anywhere between $1 and $999. The host can also set limits to the size of the Space and send out push and in-app notifications to remind their attendees of the upcoming Space.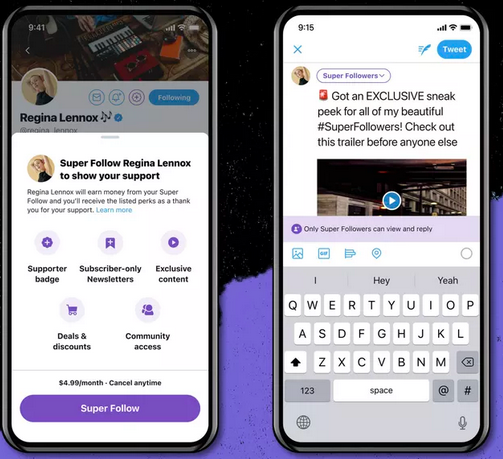 The Super Follows feature, on the other hand, allows users to charge their followers for access to special content on a monthly subscription. The Super Followers will be able to say, see exclusive content, get a subscribers-only newsletter, deals, and discounts on your products, community access, a special supporter badge, and more.
Users will be able to customize what they offer to their followers and can set the price as $2.99, $4.99, or $9.99 per month.
Concerning the revenue share, Twitter will take 3% until a user earns $50,000 in lifetime earnings. After crossing $50,000, Twitter will increase its cut to 20% of future earnings.
Twitter will select a "small group" of users to test its new monetization features, both of which were announced earlier this year.
US-based users can apply separately for each program through Twitter's mobile app; Super Follows are restricted to iOS, while Ticketed Spaces are available on iOS and Android.